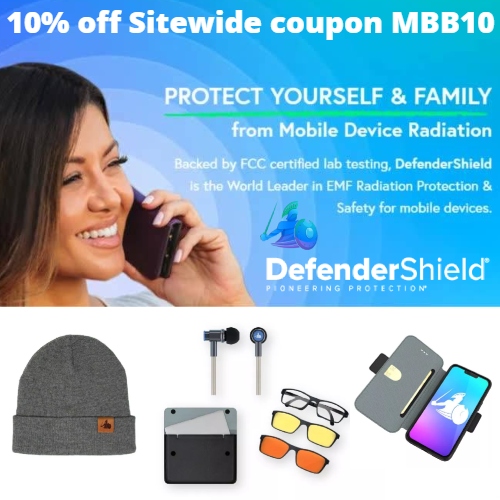 Modern technology like cell phones & Wi-Fi have definitely made our lives more convenient, however, studies have shown that the EMF radiation frequencies they emit can be harmful to our health.
Created by a former telecommunications engineer, DefenderShield offers EMF protection products that are scientifically-tested to block up to 99% of EMF radiation frequencies from 0-90 GHz, including Wi-Fi, Bluetooth, Cellular (1G-5G), GPS, NFC, RFID, and Extremely Low Frequency (ELF).
DefenderShield has been recognized as a trusted worldwide leader in EMF radiation protection & education and their shielding products are the only ones in the world that can block frequencies up to 90 GHz!
Their product line includes protective clothing, blankets, cell phone cases, laptop shields, tablet cases, pouches & bags, headphones & earbuds, blue light blocking glasses, and more.
DefenderShield also offers cyber security products that prevent your cell phone data, credit cards & passport info from being hacked, as well as a line of holistic health supplements that specifically target imbalances at the cellular level to promote resiliency from toxins.
Get 10% off Sitewide at DefenderShield using coupon MBB10. Shipping is Free on orders of $125 or more.
8