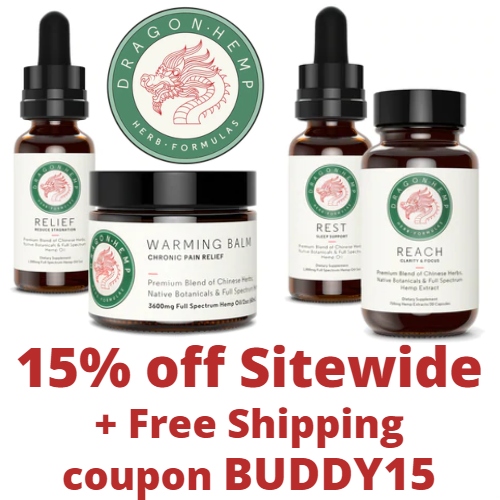 Dragon Hemp offers botanical powered CBD products that are designed to help you perform better, recover faster, and sleep more soundly.
They combine premium grade CBD with ancient Chinese medicinal herbs that have been used for over 2,000 years to help with health issues such as pain, inflammation, sleep difficulties, and overall health & wellness. Their special blends boost cumulative effects of each ingredient and optimize the benefits of the CBD.
Dragon Hemp offers tinctures, capsules, and balms in three product categories:
Reach – Formulated to help you reach peak mental & physical performance.
Relief – Designed to aid your body's natural recovery process.
Rest – Natural & effective plant-based remedies that help you get a restful night's sleep.
Get 15% off Sitewide at Dragon Hemp using coupon BUDDY15. All orders ship Free – No minimum purchase required! All products come with a 30-day satisfaction guarantee.
3