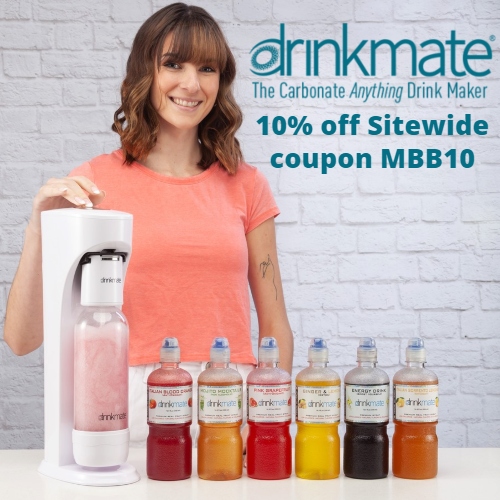 Be creative, drink healthier, and have fun with DrinkMate. DrinkMate is one of the leading brands of at-home soda makers offering the beverage industry's most innovative appliances for carbonating ANY drink!
With unmatched features and excellent quality, DrinkMate's Countertop soda maker is very highly rated. Their proprietary Fizz Infuser technology gives you the freedom to carbonate any beverage – not only water, but juices, cold tea or coffee, wine, cocktails, and more. So whether you want to create healthy sparkling drinks or craft cocktails, DrinkMate has you covered!
DrinkMate provides a huge savings over store-bought carbonated drinks. And it's eco-friendly by cutting down the usage of cans, glass, and single-use plastic. Not to mention the benefit of not having to lug all those heavy bottles around. Best of all, you can get creative and have fun while making drinks with exactly the amount of fizz you like.
Their product line includes their elegant DrinkMate Countertop sparkling water & soda maker in various styles and finishes, the instaFizz Stainless Steel Carbonation Bottle – the first water bottle on the market that can instantly carbonate drinks so you can enjoy your favorite carbonated beverages on the go, plus accessories, like colorful 1-liter bottles, fizz infusers, silicone bottle sleeves, and refillable CO2 cylinders.
DrinkMate also carries premium Italian syrups. They're great for cocktails, mocktails, slushies, smoothies, and flavored sparkling water. The Italian syrups come in 6 unique flavors – Blood Orange, Sorrento Lemonade, Mojito Mocktail, Pink Grapefruit, Ginger & Lemon, and Energy Drink.
Get 10% off Sitewide at DrinkMate using coupon MBB10. Shipping is $4 or Free on orders of $50 or more (after coupon). Drinkmate Countertop comes with a 2-year warranty & DrinkMate instaFizz comes with a 6 month warranty.
Be sure to save your CO2 cylinders! DrinkMate will pay you for empty CO2 cylinders with their CO2 Exchange program, plus they clean, inspect, refill, and reuse them, so you're cutting down on waste, too. They automatically include a prepaid return label with all orders containing more than one CO2 cylinder. Once you have two or more empty cylinders, reuse the shipping box, and apply the provided return label to start a CO2 exchange. You can get a rebate of up to $54! They also accept Sodastream and Sodasense 60L cylinders in their exchange program.
4