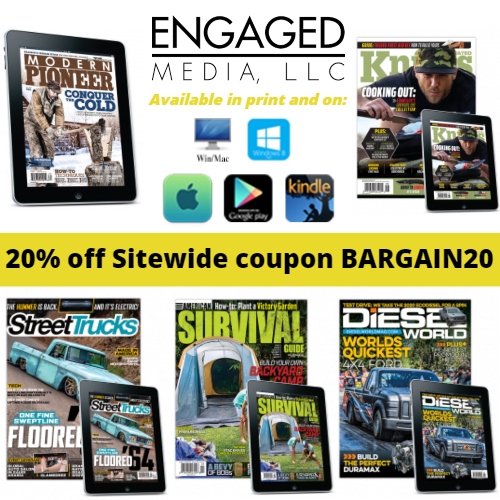 Engaged Media is one of the worlds largest publishers of monthly, bi-monthly, and quarterly magazines. Their magazines, web sites, apps, books and videos provide the best information to enthusiasts and their communities allow you to share your passions with others who have similar interests.
Engaged Media offers a wide range of publications that provide entertainment and great information for key enthusiast markets including automotive, homes, outdoor, food, action sports, and more with great titles that have been around as long as 50 years such as Street Trucks, Atomic Ranch, American Survival Guide, Home Defender, Drag Racer, and Diesel World.
Ladies – Is your guy into cars, trucks or the outdoors? A subscription to one of Engaged Media's magazines would make a great Valentine's Day gift!
Get 20% off Sitewide at Engaged Media using coupon BARGAIN20.
2