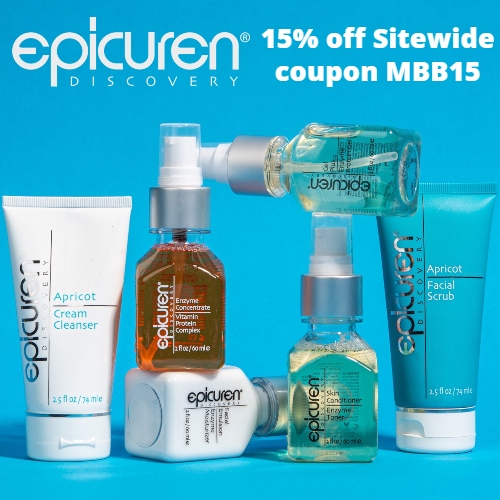 Epicuren Discovery offers 100% pure skincare products that are powered by science and cutting-edge ingredients to support ageless beauty and naturally healthy skin.
Developed to address every face and body need, Epicuren's luxurious product line is suitable for all ages & skin types. They have something for almost any skin concern, including fine lines & wrinkles, acne, age spots, dry skin, sun damage, redness, uneven skin tone, and healthy skin maintenance from head to toe.
The wide range of skincare products at Epicuren Discovery includes cleanser, toner, masks, moisturizer, sun care, Metadermabolic™ Enzymes, serums, vegan skincare, and more. Some of their best-sellers include:
Eye Alive Serum – This delicate serum is designed to instantly brighten, energize, and refresh the appearance of the fragile area around the eye. It is great for people with dark under eye circles.
Acidophilus Probiotic Facial Cream – Clear, healthy skin begins with a healthy microbiome (a collective of microorganisms that naturally reside on the surface of your skin). When the microbiome balance is disrupted, your skin becomes susceptible to all kinds of unwanted conditions. Enriched with Lactobacilli Acidophilus and Micronized Silver, this gentle moisturizer maintains a healthy microbiome for a fresh and flawless complexion.
Pumpkin Apple Spice Peel – Mild pumpkin, malic acid, and phytic acid gently buff away impurities, encourage hydration, and promote clarity. Pumpkin is known to be rich in phytonutrients & antioxidants which will help your skin appear youthful and refined. This gentle peel is perfect for anyone with sensitive skin.
Kukui Coconut After Bath – This luxurious after bath body moisturizer perfectly blends exotic tropical oils with rich, natural emollients to instantly hydrate dry skin. It is a great all-over body moisturizer with an exquisitely light feel.
Get 15% off Sitewide at Epicuren Discovery using coupon MBB15. Shipping is Free on orders of $150 or more. Coupons are not valid on sets & kits.
All products come with a 30-day satisfaction guarantee. Products must be over 70% full to qualify. If you have used more than 30% of the product you will not receive a refund.
8