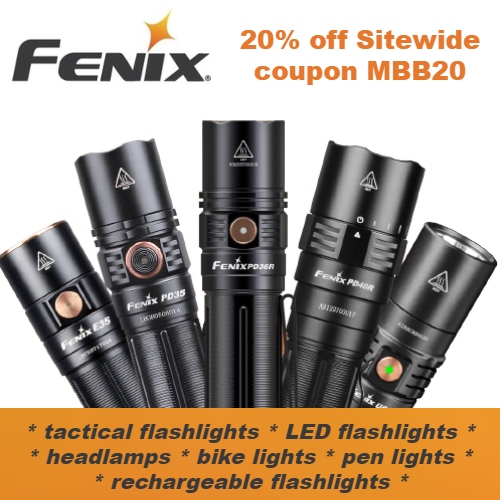 Since 2005, Fenix has been providing top-quality personal lighting tools for both work and play.
Fenix Flashlights are some of the best on the market. You'll find high-end tactical flashlights, rechargeable LED flashlights, general use flashlights, tactical pen lights, and more.
Their premium LED headlamps are bright and durable, making them popular among hikers, hunters, and industrial workers. Prominent buttons make operation a breeze, even while wearing gloves.
Fenix bike lights are great for cyclists of all types. They can withstand heavy use in harsh conditions and their LED beams can be adjusted to suit your needs.
Going camping? Grab a Fenix LED Lantern. They feature multiple brightness levels and they can last longer than propane lanterns over time due to their extreme durability.
Get 20% off Sitewide at Finix using coupon MBB20. Shipping is Free on orders over $25. All lights are backed by a limited lifetime warranty. Coupons cannot be applied to batteries and accessories.
3