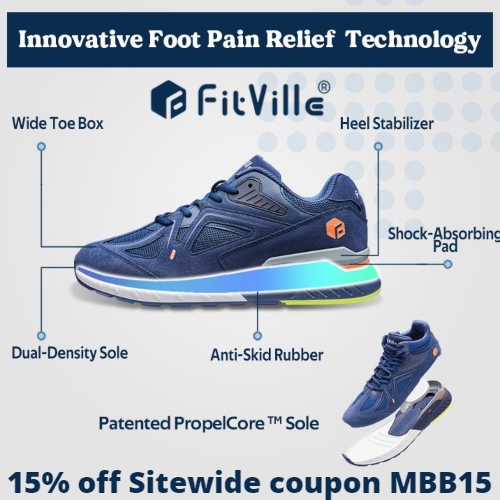 FitVille offers stylish shoes that are specially designed to provide comfort and pain relief for men & women who suffer from chronic foot conditions like plantar fasciitis, high arches, bunions, swelling, hammertoes, and more. They're also great for anyone who wants to enjoy ultimate foot comfort while walking, running, hiking, working out, or performing other day-to-day activities.
FitVille's patented technology eases foot discomfort with an elastic front sole and solid back sole that facilitate smooth movements with strong support while the shock absorbing pad helps alleviate heel pain and the anti-skid rubber ensures a safer walk.
The ergonomically designed insoles help prevent common injuries related to poorly fitting shoes, including plantar fasciitis, shin splints, and overpronation. They help you achieve better body alignment and the high arch support effectively eases your foot pain, making walking and standing easier & more comfortable. Their wide toe design is perfect for people with wider feet or those prone to foot swelling by allowing your toes freedom of movement.
FitVille shoes feature stylish designs and are built to last with high-quality materials that provide durability and comfort. They feature a lightweight canvas fabric with a breathable weave.
FitVille has a shoe for almost any activity, including walking & running shoes, hiking boots & shoes, tennis shoes, slip-ons, winter boots and more. All shoes are available in wide & extra wide.
Get 15% off Sitewide at FitVille using coupon MBB15. Shipping is $5.95 or Free on orders of $150 or more. Be sure to check out their clearance section for already discounted styles!
4