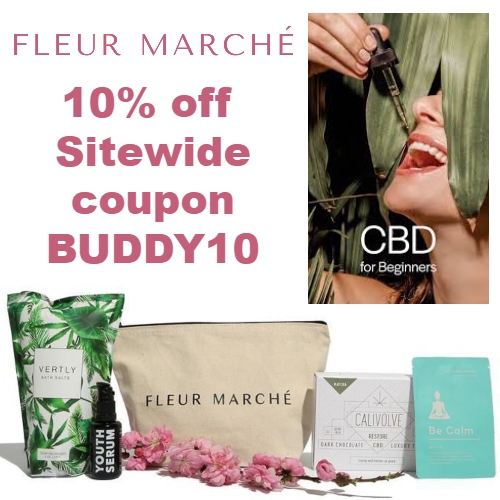 Fleur Marché is a great platform for anyone who is curious about CBD but doesn't know where to start. There are so many products and so much information, it's hard to be sure what's right for you, what actually works, and how to separate the best from the worst.
That's why Fleur Marché was created – to answer your questions about CBD, make you feel more comfortable using it as a wellness tool, and introduce you to a highly curated group of premium brands. They've done the research, asked the hard questions, tested the products, and chosen only the best of the best. Fleur Marché only sells products that they would use for themselves and they've worked hard to provide clarity on the information you'd want to know before making a purchase. You can also start off by taking the quiz on their site.
Fleur Marché offers a wide range of products for all of your CBD needs, including tinctures, topicals, edibles, beauty & skincare, CBD for pets, transdermal CBD patches, and much more.
Get 10% off Sitewide at Fleur Marché using coupon BUDDY10. Shipping is $5 or Free on on orders of $100 or more. Coupon is not valid on subscription orders.
Fleur Marché asks for the following documentation and assurance from each brand they sell:
• Hemp products are grown on farms compliant with the 2014 Farm Bill
• Hemp products are grown on farms that are either: certified organic, grown to organic standards, grown to food grade standards
• Products contain less than 0.3% THC
• Products are produced in GMP compliant facilities OR commercial kitchens that are registered with the FDA and state health departments
• Certificates of Analysis for source CBD
• Certificates of Analysis for finished product (when applicable)
• 3rd party testing for: potency, purity, microbiological contaminants, heavy metals, residual solvents and pesticides (Not all brands have ALL of these tests, but Fleur Marché always tells you who has what.)
1