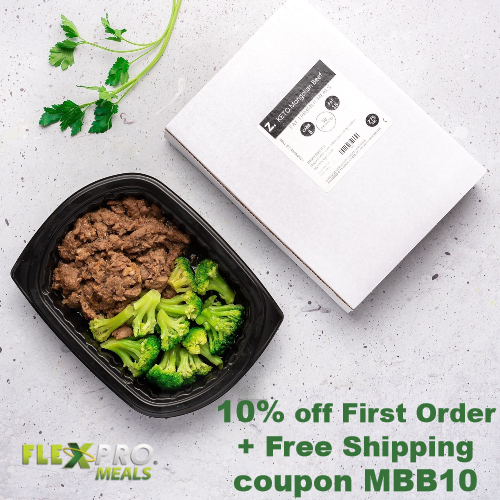 We all know that dieting is hard! It's challenging coming up with meals that are healthy and actually taste good. You have to spend hours searching for recipes, grocery shopping and prepping meals. Not many people have time for that. FlexPro Meals can help! They prepare healthy, nutritionally balanced, gourmet meals and ship them right to your door. No more guesswork and no more spending hours planning and prepping. Best of all, they arrive fully prepared. All you have to do is heat and eat!
FlexPro Meals provides great tasting, healthy meals that are customized to your lifestyle. They offer low calorie and keto meals for weight loss, as well as meals designed to help build lean muscle. Just because they're healthy doesn't mean they skimp on flavor! They have a great menu that includes delicious meals like street taco bowls, chicken alfredo, homestyle chicken & mac, skinny fajita skillets, jerk chicken, steak & potatoes, breakfast bowls, and more.
They also have a protein bakery that offers delicious power treats made from scratch, packed with protein and low in sugar. Their protein balls come in great flavors like Oreo, Reese's Pieces, M&M, Pink Velvet Cheesecake, and more.
FlexPro's plans are easy. Simply choose the meals you'd like to receive, how many you'd like each week and the shipping schedule that's best for you. If you have room in your freezer, consider ordering their 21-meal box – it will save you up to $60! You can change your meal options and quantities at any time.
Get 10% off your first order at FlexPro Meals using coupon MBB10. Shipping is Free on all orders.
7