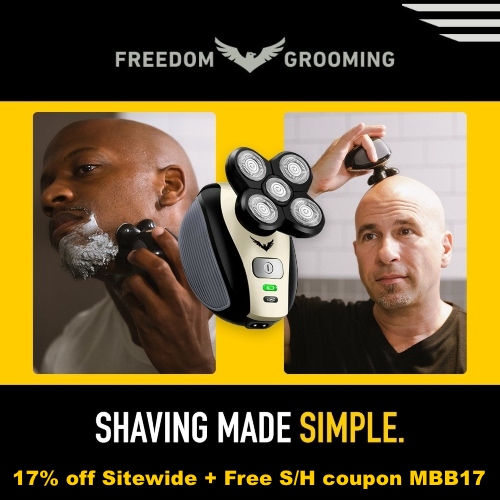 Freedom Grooming offers premium shaving products that speed up your morning routine and help eliminate cuts, bumps, and razor burn.
Their FlexSeries all-in-one grooming tool has 5 interchangeable heads to give you a luxurious, complete grooming experience – A flexible 5-head blade for all over shaving, a precision clipper with 3, 5 & 7mm clipper guards, a charcoal infused exfoliation brush that provides a deep clean & brightens your complexion, a pre-shave massage head that softens & lifts hair follicles for a super close, comfortable shave, and an ear & nose hair trimmer.
The high performance five-head rotary blade gives you a stubble-free shave in just minutes. It cuts through even the coarsest hair with ease and unlike normal razors, it actually protects your skin while you shave, so you aren't left dealing with cuts, razor burn, and skin irritation.
The FlexSeries electric shaver is water proof & shower friendly, so you can shave wet or dry, it works great with or without shave creams & oils, and it's designed with a blade that collects hairs as it cuts, so you can shave anywhere without leaving a mess behind.
It features precision technology that comfortably follows the contours of your head, face, and body, making it great for both men and women, and especially those with sensitive skin.
Want to step up your shaving experience even more? Their line of Shave Essentials is the first ever skincare line specifically designed for electric shaving. They are packed full of natural oils and healing vitamins that make your skin feel amazing before, during, and after shaving.
Get 17% off Sitewide at Freedom Grooming using coupon MBB17. Standard shipping is Free on all orders – No minimum purchase required! Priority shipping is Free on orders of $100 or more.
Be sure to check out their already discounted Shaving Kits.
For extra savings, consider a subscription for your blade refills & shaving essentials. You can save up to 30% on subscription orders and there are no commitments. Coupon MBB17 will take an extra 17% off your first subscription shipment.
The FlexSeries Shaver comes with a 1-year warranty and all products come with a 30-day risk-free trial. If you aren't completely satisfied with their products, you can send them back within 30 days for a full refund.
9