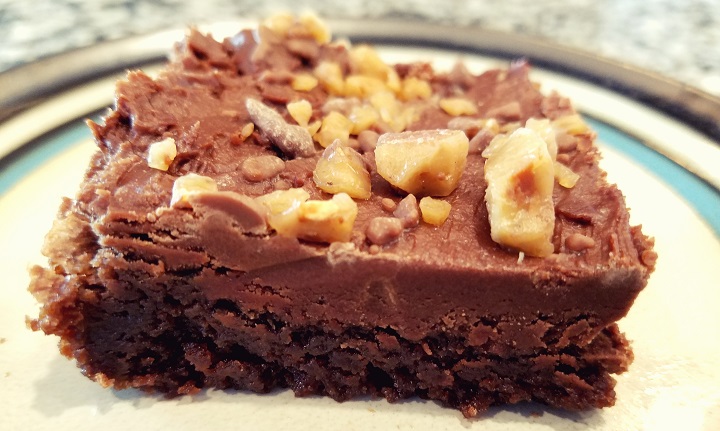 I've never started off a recipe with an apology, but I feel like this one needs many of them. First, I'm sorry if these brownies totally blow your diet. I'm also sorry if you find your family sneaking downstairs in the middle of the night to eat them. And I'm sorry if you bring these brownies to a potluck and you're on the hook for making them every time going forward.
This post contains affiliate links. See my disclosure policy for more details.
I came up with these brownies kind of by accident. I asked my husband to pick up a bag of Heath Bits 'O Brickle, he came home with a bag of Heath Milk Chocolate Toffee Bits, and I'm oh-so glad he did! The milk chocolate version wouldn't have worked in the Toffee Sunflower Seed Cookies I was going to make, so I had to come up with something else. The photo on the bag of milk chocolate bits inspired this dessert.
Side story on the plate in this pic…While I was grocery shopping with my daughter in Portland, these plates caught my eye. They were 50% off on a clearance rack next to a sign that said, "Extra 50% off clearance". Of course, I couldn't resist! I ended up stowing 4 appetizer plates, 2 dinner plates, and a serving bowl in my already close to capacity backpack for the flight home. 🙂
Brownie Ingredients
1 Box of Betty Crocker Fudge Brownie Mix
1/4 cup water
2/3 cup vegetable oil
2 eggs
Frosting Ingredients
1/4 cup melted unsalted butter
1/2 cup Hershey's unsweetened cocoa powder
1/3 cup milk
1 TSP vanilla extract
3 1/2 cups powdered sugar
Topping
1/2 Bag of Heath Milk Chocolate Toffee Bits
Directions
Cook brownies according to directions on package in a 13″ x 9″ pan. To prepare the frosting, beat the butter and cocoa in a large bowl or mixer until combined. Stir in milk and vanilla. Gradually beat in powdered sugar, adding slightly more milk if the consistency is too thick or a little more sugar if the consistency is too thin. After brownies have cooled for about 30 minutes, microwave the frosting on high for 30 seconds, stir, then microwave again for 30 seconds. This will allow the frosting to spread more easily without tearing off the top of the brownie. Spread warm frosting over the brownie then sprinkle with Heath Milk Chocolate Toffee Bits. Allow to cool about 10 minutes or until frosting firms up.
Sign up for my email newsletter to get recipes like this delivered to your inbox!

12