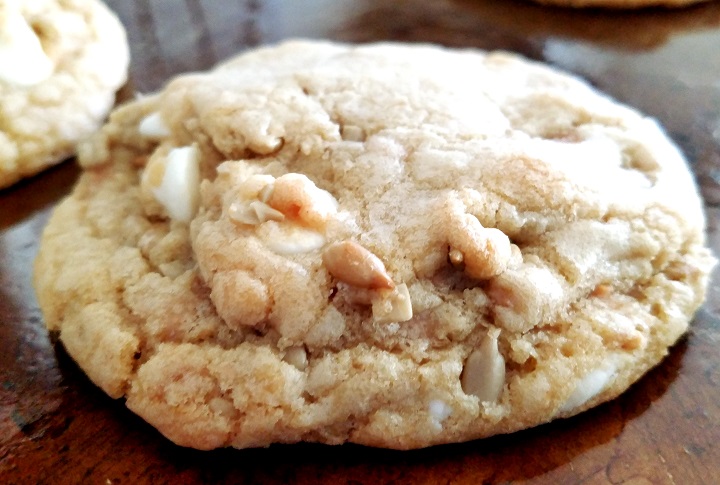 These sticky, sweet, and nutty cookies are melt-in-your-mouth delicious and really easy to make.
This post contains affiliate links. See my disclosure policy for more details.
Sprouts had unsalted roasted sunflower seeds on sale last week and I bought a little more than I probably should have. Sometimes I get a little carried away at the bulk bins. Anyhow, I was trying to think up ways to use the seeds when I noticed I had half a bag of Heath Toffee Bits in my freezer. I decided to use the base for my Best Chocolate Chip Cookies recipe and create a new cookie!
They were so good! The sunflower seeds give them an earthy flavor, while the white chips add sweetness. The toffee bits make the middles chewy. If you're the kind of person that craves savory and sweet, you've got to try these cookies! I've found that using a double layer cookie sheet, you can find these pretty cheap at Walmart, makes all the difference when it comes to homemade cookies. It keeps the bottoms from getting too dark, which can totally spoil the flavor.
Ingredients
2 cups all-purpose flour
1/2 teaspoon baking soda
1/2 teaspoon salt
3/4 cup unsalted butter, melted
3/4 cup packed brown sugar
3/4 cup white sugar
2 tsp vanilla extract
1 egg
1 egg yolk
1/2 cup white chips
1/2 cup Heath Toffee Bits
1/2 cup Unsalted Roasted Sunflower Seeds
Directions
Preheat the oven to 325°. Lightly grease cookie sheet. I prefer to bake one sheet at a time so they cook more evenly.
In a large bowl, cream together the melted butter, brown sugar and white sugar until well blended. Beat in the vanilla, egg, and egg yolk until light and creamy. Mix in baking soda and salt. Add flour and combine until blended.
Stir in the white chips, toffee bits, and sunflower seeds by hand using a wooden spoon. Drop cookie dough 1/4 cup at a time onto the prepared cookie sheet. Cookies should be about 2 inches apart. They will not spread too much. I can fit nine on my 14″ x 16″ Farberware cookie sheet.
Bake for 15 to 17 minutes in the preheated oven, or until cookies start to brown and set. Be careful not to overcook. If they are brown on top, they cooked too long and won't be as soft. Take them out when they start getting golden on the bottom. Allow them to cool on the baking sheet for a few minutes before transferring to a wire rack to cool some more. Serve warm!
Yield: Approximately 18 very big cookies
Sign up for my email newsletter to get recipes like this delivered to your inbox!

24