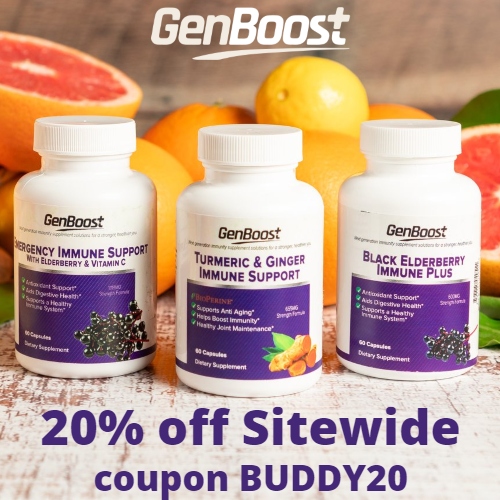 GenBoost offers premium plant based supplements that provide a healthy, holistic solution to support your immune system and provide energy.
Their product line includes:
Black Elderberry Immune Plus – Elderberries contain essential vitamins and minerals like potassium & vitamins C, B6, and A. This supplement strengthens the immune system by fighting back infection, and, being rich in flavonoids, it's also a powerful antioxidant & anti-inflammatory.
Keto Energy Fruit Punch – Nutrient-rich and ideal for fueling up, this drink supplement is great as a pre-workout or for starting your day. Their 'Burn Fat for Fuel' formula boosts your metabolism and raises the level of ketones in your blood while providing an extra source of fat to give you energy to fuel any activity.
Daily Immune Defense Gummies – Packed with zinc and vitamin C, these gummies are a delicious and convenient way to boost your immune system. They also support digestive health and provide antioxidants.
Emergency Immune Support – Feeling a bit under the weather or been around someone who's sick? Ramp up your immune system with Emergency Immune Support. It contains 10 of the most potent immunity ingredients – vitamin C, vitamin E, vitamin B6, zinc, L-glutamine HCL, elderberry extract, echinacea powder, garlic powder, turmeric curcuminoids, and probiotics.
Turmeric Ginger Immune Support – Turmeric and ginger are two of the most powerful antioxidants. They've been used for years to help naturally relieve a variety of health concerns, promote healthy digestion, support brain health, and lower the risk of colds, flu, and other infections.
Get 20% off Sitewide at GenBoost using coupon BUDDY20.
4