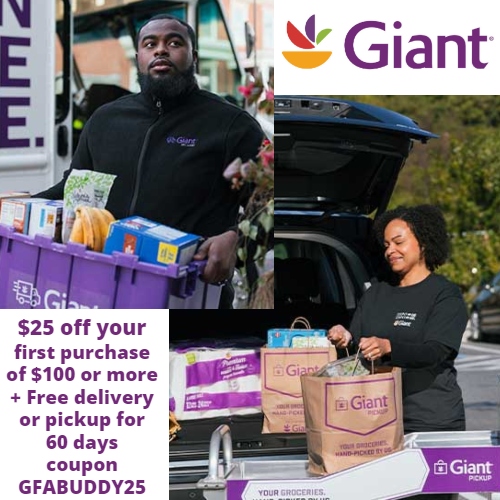 Giant Food Coupon
Today: $25 off your first purchase of $100 or more + Free delivery or pickup for 60 days
Coupon: GFABUDDY25
Expires: 12/31/23
SHOP NOW
Giant Food is a neighborhood grocery store with over 150 stores across the Delaware, Washington, D.C., Maryland, and Virginia region that has been delivering unmatched selection, quality, and value for over 85 years.
Giant Food is the perfect go-to store for all your everyday needs, and with their online ordering with pick up or delivery, shopping has never been quicker or easier!
At Giant you'll find everything from locally sourced products, 100% sustainable seafood, premium grade meats, healthy options, fresh produce, pharmaceuticals, health & beauty products, floral & garden, and more.
Get $25 off your first purchase of $100 or more + Free delivery or pickup for 60 days at Giant Food using coupon GFABUDDY25.
4