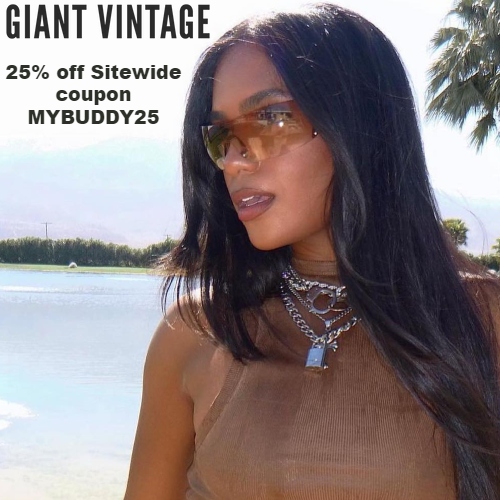 In today's fast-paced world of fashion, it's refreshing to discover a brand that embraces the timeless appeal of vintage aesthetics. Giant Vintage is an online treasure trove that caters to fashion-forward individuals seeking to make a statement with their eyewear. They carry a vast collection of true vintage sunglasses designed and manufactured 20+ years ago as well as vintage-inspired sunglasses.
Whether you're a lover of retro styles, a fan of quirky designs, or someone seeking classic elegance, Giant Vintage has something for you! From oversized frames that hark back to the '70s to sleek, minimalist options reminiscent of the '90s, their selection caters to every taste and preference.
Giant Vintage understands that style shouldn't come at a hefty price tag, which is evident in their affordable pricing. Most sunglasses are in the $30 range, so you can embrace your fashion individuality without breaking the bank.
Get 25% off Sitewide at Giant Vintage using coupon MYBUDDY25. Shipping is $4.50 or Free on orders over $44. While you're there, be sure to check out their sale section – Styles start at just $23 before coupon!
Quick Links –
Men's Sunglasses
Women's Sunglasses
Kids' Sunglasses
1