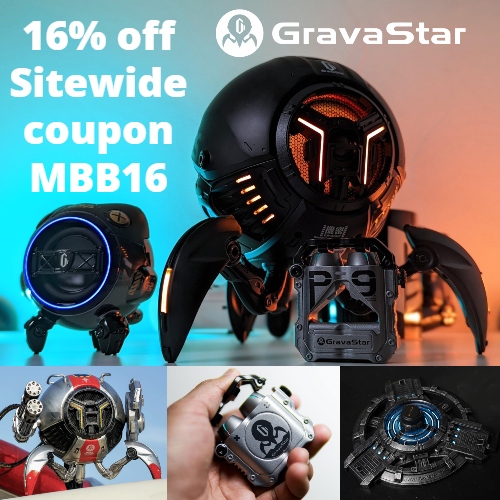 Founded by legendary industrial designer, Yong, GravaStar is on a mission not just to make quality sound devices, but to create audio engineering art.
With a team designers, engineers, craftsmen, cartoonists, music fans, explorers, gamers, and other visionaries working together, GravaStar manufactures premium Bluetooth speakers & wireless earbuds that feature unique sci-fi designs & make great collectibles, in addition to being functional & providing top-notch sound.
Gravastar Bluetooth Speakers feature a rugged zinc alloy shell, powerful full range sound & high bass quality, dual speakers, RGB Lighting, up to 15 hours of battery life, and TWS Bluetooth V5.0 technology.
Sirius Wireless Earbuds feature 3D surround sound with custom tune modes for music, gaming & movies, in-ear detection, noise cancellation, RGB lighting, a scratch resistant zinc alloy charging case, and IPX5 waterproof rating.
Get 16% off Sitewide at GravaStar using coupon MBB16. Shipping is Free on orders of $70 or more. All products come with a 1-year limited warranty.
3