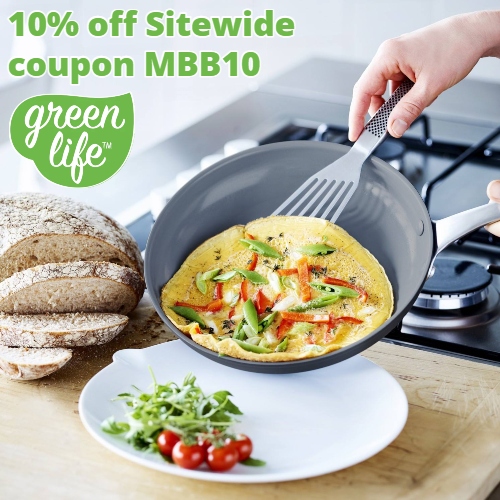 GreenLife is on a mission to make healthy cooking available to everyone. Their nonstick cookware and time-saving appliances are toxin-free and allow you to cook delicious meals with less oil & butter.
Their patented Thermolon non-stick technology is a ceramic mineral based coating that will never release toxins into your food like other nonstick coatings do. Instead of using dangerous PFOA (perfluorooctanoic acid), GreenLife uses sand in their manufacturing process to ensure they don't introduce any harmful chemicals into their cookware.
Their signature ceramic coating heats quickly and releases food easily, so you can just wipe them clean. The quick-heating construction speeds up your cooking time and is heat tolerant up to 850°F. The durable forged bases prevent the pans from warping, and they are dishwasher safe.
The ceramic nonstick coating also cuts down on the amount of oil/butter needed to get the perfect sear and keep food from sticking, so you get the same great taste without the extra fat!
Their full line of premium cookware includes pots & pans, griddles, grill pans, bakeware, cutlery & utensils, electric appliances, such as electric skillets, slow cookers, ice cream makers, rice & egg cookers, and more. All products are available in a variety of eye-catching colors that will add a fun pop of color to your kitchen.
Get 10% off Sitewide at GreenLife using coupon MBB10. Shipping is Free on orders of $75 or more in the continental U.S. All products come with a limited warranty. Coupon is not valid on sale items.
Bonus: Orders over $150 come with a Free 2-piece cutting board set ($28.99 value). The set will automatically be added to your cart when you reach $150.
GreenLife cookware isn't just better for you, it's better for the environment, too! The pans are made of recycled aluminum, the ceramic nonstick starts with sand and creates 60% less CO2 emissions than traditional coatings during the curing phase. 30% of their manufacturing facility's energy comes from solar panels, and they even have their own treatment plant to filter and reuse industrial wastewater.
2