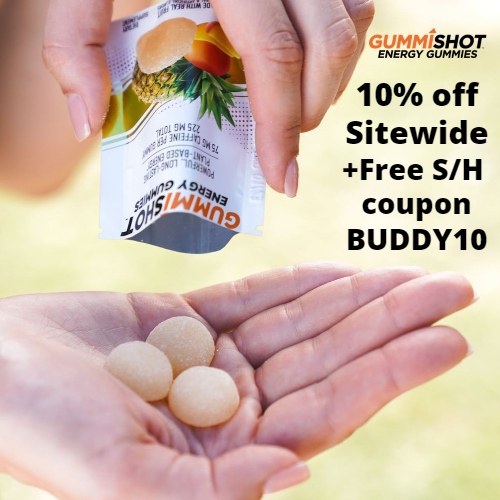 GummiShot offers great tasting energy gummies that give you the same powerful, long lasting energy you get from energy shots and drinks.
Their gummies are made with a combination of potent plant-based ingredients that provide natural energy, such as green coffee beans, cell protecting antioxidants, and real fruits, like pineapple, mango, elderberry and acai.
Each gummy contains 75mg of natural caffeine (225mg per pouch). The convenient pouches contain 3 gummies each, so you can get the energy you need when you need it. You can eat them all at once for a powerful burst of energy or one at time for steady energy throughout the day.
They come in 3 delicious flavors – Valencia Orange, Elderberry, and Tropical. Can't decide which flavor to try first? GummiShot offers a variety pack so you can try all three!
Get 10% off Sitewide at GummiShot using coupon BUDDY10. Shipping is Free on all orders – No minimum purchase required! Coupon is not valid on subscription orders.
1