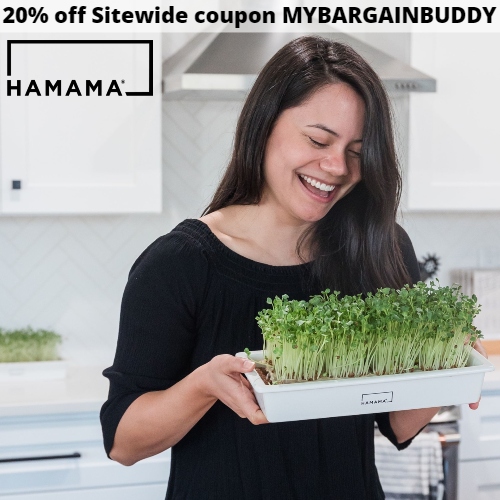 Microgreens have been shown to have tons of health benefits, plus they add delicious flavor to your meals. The only downside is they can be expensive and hard to find. Hamama makes it easy for you to grow your own microgreen superfoods at home with their guaranteed-to-grow indoor gardens.
Microgreens provide a quick and easy way to get more vegetables in your diet. They are baby vegetables (about 10-14 days old) that are packed with nutrients & antioxidants. They actually have up to 40 times the nutritional value of their adult counterparts!
Hamama grow kits can grow microgreens in just 7-10 days. With their easy to use Seed Quilts, there's no mess, no watering, and no sunlight required! The Seed Quilt's innovative design combines the seeds and grow media into an easy to plant and mess free package. You can plant and harvest almost every week, so you'll always have fresh superfoods.
Hamama has a great selection of superfood microgreens to choose from, including Hearty Broccoli, Daikon Radish, Red Cabbage, a Super Salad Mix, Sweet Wheatgrass, and more. They also offer a Green Onion Kit that allows you to regrow used green onions and a Culinary Cilantro Kit.
To add extra flavor & health benefits to your microgreens, grab some of Hamama's very own Extra Virgin Olive Oil & Balsamic Vinegar. Their extra virgin olive oil is full of flavor – it's fruity, a little green, grassy, and spicy (and that spicy kick is full of healthy antioxidants). The balsamic vinegar has been aged in barrels for years to give it a rich and layered flavor. Its lower acidity and sweetness is a perfect complement to the extra virgin olive oil. Drizzle them on your microgreens or mix them together for healthy & delicious dressings and marinades.
Hamama also offers grow shelves, decorative bamboo frames to hold your grow trays, kitchen scales, harvesting tools, Seed Quilt organizers, and more.
Get 20% off Sitewide at Hamama using coupon MYBARGAINBUDDY. Coupon is valid on one time orders and will also apply to the first shipment on a subscription order. Most items ship Free!
For extra savings, consider a subscription! You'll get 3 Seed Quilts of your choice delivered straight to your door each month so you never have to worry about running out. Their Starter Kit includes a reusable grow tray, easy growing instructions, and your first 3 Seed Quilts for only $28 with coupon MYBARGAINBUDDY (reg. $49). You can change your order, skip, or cancel anytime through your online account.
3