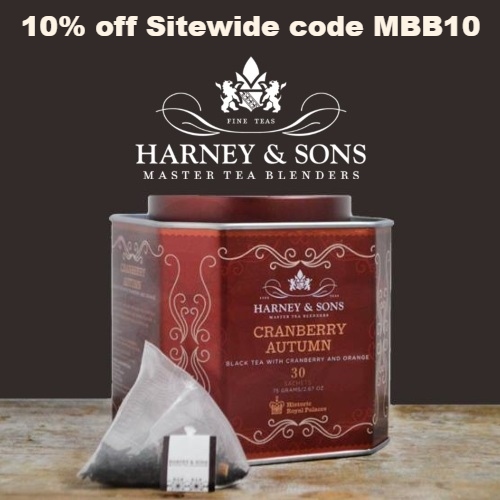 Harney & Sons is a family owned tea company that has been creating unique & flavorful tea blends since 1983. The proprietor of an inn at the time, John Harney began by serving his distinctive blends to his guests. Today, they have three generations of master tea blenders and their blends are enjoyed by tea lovers around the world.
Harney & Sons offers more than 300 varieties of the highest quality hand-picked, full-leaf teas from the finest tea gardens and estates around the world. From beginners to avid tea drinkers, their selection of rare teas, signature blends, and fun flavors has something for every taste.
Their blends include all the classics, like Earl Grey, English Breakfast, and Peppermint, as well as several varieties of Matcha, adventurous teas like Bamboo & Hemp/CBD teas, and of course their signature blends, like their popular Paris blend, a fruity black tea with vanilla & caramel flavors, and a hint of lemony bergamot.
Teas are available in sachets, loose leaf, or convenient individually wrapped teabags. If you want to add a decorative touch to your kitchen counter or you're looking for an easy gift any tea lover would enjoy, you can opt to have your tea packaged in one of their beautifully decorated tins.
Harney & Sons also offers teapots & kettles, filters & strainers, cups & mugs, specialty food items to pair with your tea, and more.
Get 10% off Sitewide at Harney & Sons using coupon MBB10. All orders ship Free – No minimum purchase required!
Be sure to check out their sale section & discounted gift sets. Many are over 10% off before coupon.
Their best-selling Hot Cinnamon Spice Tea is the perfect cozy fall beverage and it makes a great after-dinner drink for holiday parties. Snag a few extra tins to have some quick & easy gifts on hand for unexpected guests and last minute holiday get togethers.
4