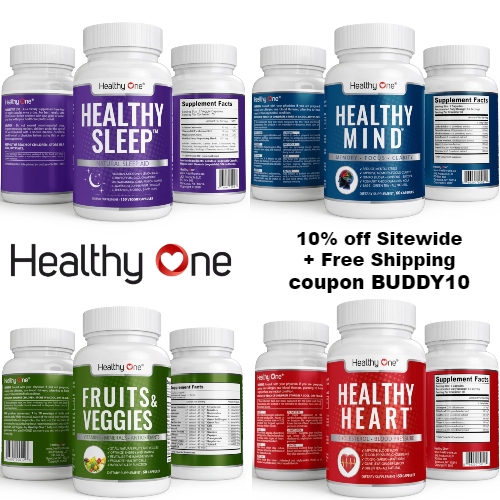 HealthyOne offers all-natural health supplements for a better quality of life. Get 10% off Sitewide at HealthyOne using coupon BUDDY10. Coupon will not combine with their buy 1, get 1 50% off promo.
Healthy Heart
Contains 7 all natural ingredients that have been proven to lower cholesterol, lower blood pressure and improve blood flow.
Healthy Mind
Contains 11 natural ingredients that have been clinically proven to improve memory, focus and clarity while also reducing mental stress.
Fruits and Veggies
Made from 27 all natural fruits and vegetables. Rich in vitamins, minerals and antioxidants.
Healthy Sleep
Reduce stress and relax the mind. Stimulates the body's natural sleep cycles.
Super Omega 3 Fish Oil
Triple strength omega 3 fish oil with up to 5 times the purity of most fish oils on the market today.
4