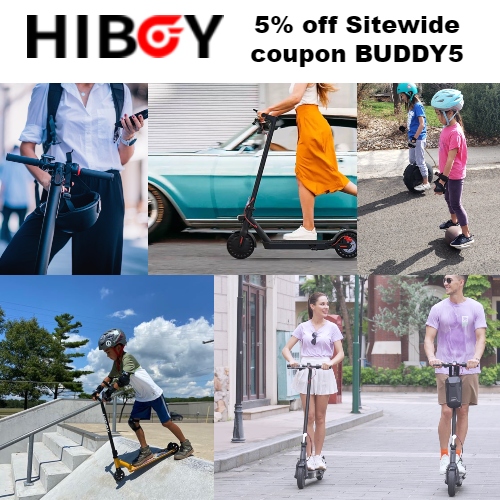 Hiboy is committed to creating incredible and environmentally friendly personal transportation vehicles from electric scooters, hoverboards, hoverboard karts, and skateboards to e-bikes. Whether it's daily commuting or a weekend outing, Hiboy's electric vehicle products provide safe, convenient, inexpensive, eco-friendly, reliable, and fun ways to travel.
All Hiboy products are of the highest quality. They offer many types of electric scooters that suit the demands of both adults and children, including street legal scooters. Whether it's trying your first super cool electric skateboard, having fun with your kids, or commuting to work, Hiboy has a ride for you!
Get 5% off Sitewide at Hiboy using coupon BUDDY5. All products come with a 30-day money back guarantee. Shipping is Free on all U.S. orders.
3