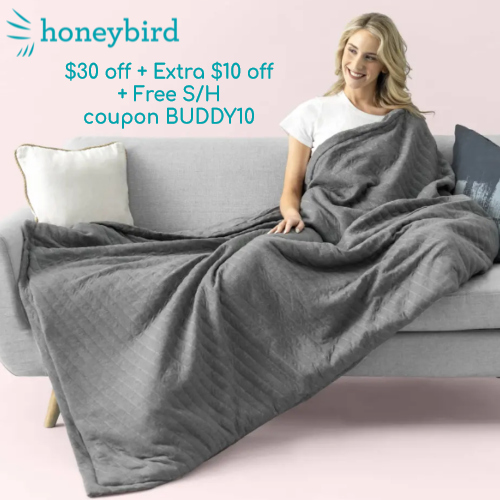 Honeybird is on a mission to help Americans sleep better. They sell weighted blankets ranging from 10 to 20 pounds that promote deeper, more restful sleep. The company was started by two friends who experienced the benefits of weighted blankets but couldn't find a product on the market that combined high-quality materials with affordable pricing.
Their weighted blanket is designed to weigh about 10% of your body weight. They provide deep, relaxing pressure that mimics a comfortable hug to promote relaxation, stress relief, reduced anxiety, and better sleep. Traditionally, they've been used by people with conditions such as insomnia, anxiety, and restless leg syndrome. Now, people who would just like a better night's sleep are discovering the benefits of weighted blankets.
For a limited time, Honeybird will give you $30 off just for taking the quiz on their homepage + you can get another $10 off using coupon BUDDY10. All orders ship Free – No minimum purchase required. All blankets come with a 30-night satisfaction guarantee.
16