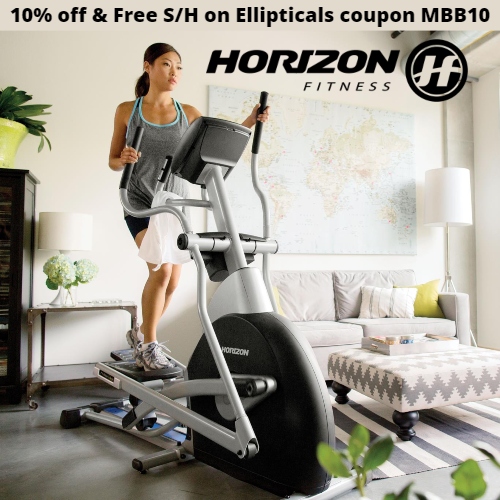 Horizon Fitness ellipticals are high-performance, low-impact machines that give you big results! They provide a total body cardio workout that burns tons of calories and targets your glutes, hamstrings, and calves.
Ellipticals are gentle on knees and other joints making them a great option for people in rehab after an injury, the elderly, people with osteoporosis & arthritis, and anyone that wants to burn calories & get fit with less risk of injury.
The top quality ellipticals at Horizon Fitness are equipped with the latest technology and tons of great features, including up to 20 levels of resistance, device & water bottle holders, energy saver mode, built-in speakers, and more.
They offer multiple ellipticals, from super light & compact folding ellipticals to their advanced & powerful 7.0 AE elliptical with smart fitness technology that allows you to sync data to your favorite fitness apps, quickly connect & charge multiple devices, make your workouts more enjoyable with your favorite music & entertainment through Bluetooth connectivity, and more.
Get 10% off & Free Shipping on ellipticals at Horizon Fitness using coupon MBB10. All ellipticals come with a 30-day satisfaction guarantee.
2