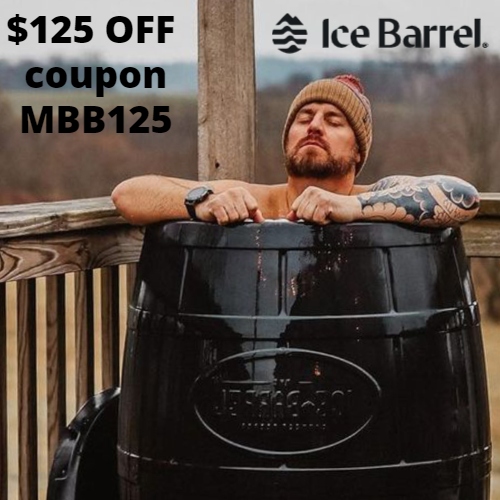 Ice Barrel is a cold therapy bath that is designed to help you reach new heights mentally, emotionally, and physically.
Cold therapy has been used as a treatment for acute injuries and post-exercise recovery for over 30 years. Research also shows that it can aid in treating chronic diseases, like rheumatoid arthritis & fibromyalgia, reduce depression, anxiety & stress, and promote general well-being.
Ice Barrel's lightweight design and functional features make it portable and durable, so you can easily add ice baths to your routine. It is made to fit most body types while sitting in an upright position, which allows the body and mind to focus, relax, and revitalize.
Get $125 OFF an Ice Barrel using coupon MBB125. Ice Barrel comes with a limited lifetime warranty.
Made in Ohio using recycled materials, Ice Barrel comes with everything you need for a life changing experience – The Ice Barrel and lid, protective UV cover, barrel stand, and a step stool.
3