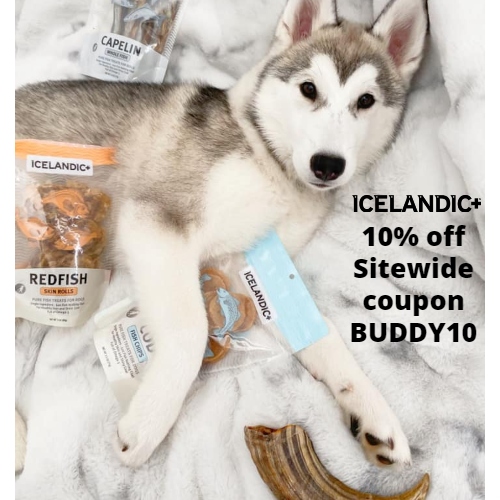 Icelandic+ offers drool-worthy, sustainably sourced dog & cat treats that are made with only the purest ingredients from Iceland. Their super healthy & delicious treats meet your pet's specific digestive, physiological, metabolic, and nutritional requirements. Your pets will love eating them and you will love the health benefits they receive!
All Icelandic+ treats are manufactured within FDA, USDA, EU, and MAST standards and regulations to ensure their freshness, purity, and integrity. They contain zero additives, fillers, supplements, or preservatives and they are air-dried using Geothermal energy to ensure the highest nutritional value.
Their treats include things like whole fish dog & cat treats, lamb horn dog treats with marrow, fish bites & fish skin rolls, chew sticks, and more.
Get 10% off Sitewide at Icelandic+ using coupon BUDDY10. Shipping is $3.99 or Free on orders of $50 or more.
Why Iceland? – Some refer to Iceland as the Land of Fire and Ice, but Iceland refers to itself as Pure, Natural, Unspoiled. And for a good reason: it's is one of the most virgin landscapes in the world. With a pristine coastline, lush farmlands, majestic glaciers, fiery volcanoes, and untouched highlands, it is the epitome of pure. So it goes without saying that products harvested from Iceland, like Icelandic+ Pet Treats, reflect the clean, natural environment from which they come. In turn, pets benefit from the higher levels of nutrients and the absence of chemicals like pesticides, herbicides, and other toxins.
3