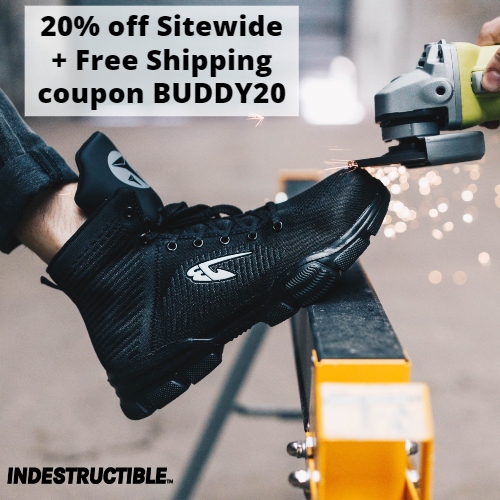 Indestructible Shoes offers all-in-one work boots and shoes that provide the protection you need, while still being comfortable and stylish. Their shoes are built to last using extremely durable, yet lightweight military grade Kevlar and heavy duty steel to protect your feet. They are lightweight & breathable, fire resistant, flexible, puncture & shock resistant, skid proof, and some are even waterproof, making great for any job!
Indestructible Shoes come in many different styles & colors, including sneakers, high tops, and boots. They also offer accessories like compression socks, knee support pads, no-tie shoelaces, and insoles that reduce fatigue on your legs and feet.
Get 20% off Sitewide at Indestructible Shoes using coupon BUDDY20. All orders ship Free – No minimum purchase required!
3