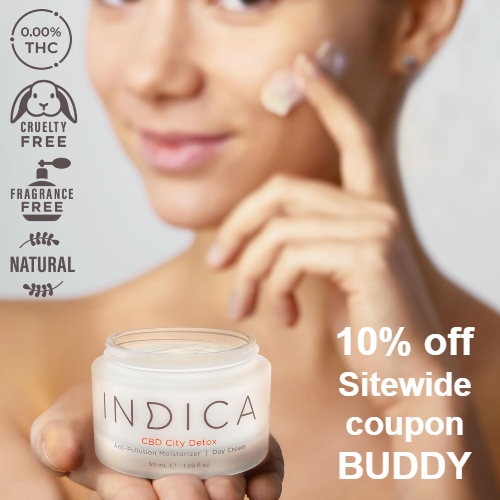 Founded in 2019, INDICA Skincare is one of the first suppliers on the European market to launch a natural, sustainable, premium quality CBD skincare product line. They offer three great all-natural products that are paraben, silicone, fragrance, GMO, and cruelty-free.
CBD City Detox Day Cream – The first legal CBD face cream in Europe! This natural face cream is for all skin types with natural SPF20, based on Ayurvedic principles. Packed with powerful antioxidants and 25 other natural ingredients, such as CBD, hemp oil, aloe vera, avocado, coffee, rice bran oil, hyaluronic acid. It is designed to address pollution-related skin concerns, including dull skin, redness, sensitized skin, blemishes, clogged pores. It also helps prevent premature aging and preserve radiant, soft, and healthy skin. It contains 75% active ingredients, which is considered outstanding in the skincare industry.
CBD City Detox Night Cream – Their natural night cream completes your evening facial care. This rich, high-quality cream is specially developed to help the skin promote its natural regeneration from environmental influences during the day. Powerful antioxidants from natural high-quality ingredients such as poppy seed oil, retinol, lavender, CBD and hyaluronic acid provide intensive care for the skin, making it smooth and it helps prevent premature skin aging. It also contains 75% active ingredients! With the greatest of care, they have created a new type of night cream that refreshes the skin overnight and leaves it looking radiant.
The day and night creams are available in a set that is 20% off before coupon!
CBD City Detox Eye Contour Cream – Rich in antioxidants and 20 other natural ingredients, and based on Ayurvedic principles, this cream is designed to brighten and improve skin tone in the delicate under-eye area. It helps smooth and reduce the appearance of fine lines and dark circles for a more radiant and rested look. Its key ingredients include CBD, hemp seed oil, retinol, avocado, grapes, coffee, rice bran oil, and hyaluronic acid.
Get 10% off Sitewide at INDICA Skincare using coupon BUDDY. Worldwide shipping is Free on orders over €49.
4