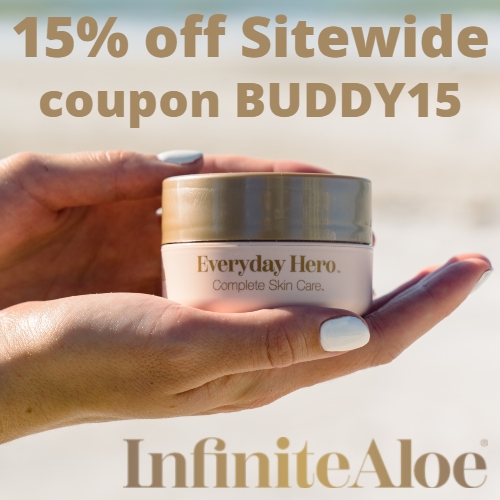 InfiniteAloe.com offers skin care products that are made with pure, natural ingredients and designed to soothe, smooth & soften dry skin as well as help with difficult skin conditions, such as eczema, psoriasis, and acne.
Their light, non-greasy formulas penetrate up to 7 layers of skin for moisture that lasts all day long. Formulated with 100% certified organic aloe vera and botanical extracts, minerals, and vitamins, like rosehip seed oil, hyaluronic acid, chamomile, and green tea extract, InfiniteAloe products naturally soothe, protect, and give you healthy, hydrated, radiant skin.
Their Everyday Hero Complete Skin Care was voted the best skin cream in Hollywood! It's advanced formula provides a convenient skin care solution that can can simplify your regimen and replace many other skin care products. It is moisturizing, nourishing, refreshing, and suitable for all ages and skin types. All products are hypoallergenic, gluten, nut and paraben free, cruelty-free, and made in the U.S.A.
Other InfiniteAloe products include anti-aging face creams, brightening, hydrating & anti-aging face masks, exfoliating face & body scrub, and microdermabrasion cream, which supports your skin's natural exfoliation of old, used cells.
Get 15% off Sitewide at InfiniteAloe using coupon BUDDY15. All products come with a 90-day satisfaction guarantee. Shipping is Free on orders of $100 or more.
Some popular products at InfiniteAloe include –
InfiniteAloe Gold Anti-Aging Cream – Provides long-lasting, deep hydration and is clinically proven to improve the youthful appearance of skin.
Skin Polish Microdermabrasion Cream – Removes dead skin cells and stimulates new cell growth revealing more vibrant skin.
Everyday Hero Nordic Mud Peat Mask – Shields your skin from free radicals, detoxifies impurities, boosts collagen production, boosts elasticity, and tightens your skin.
4