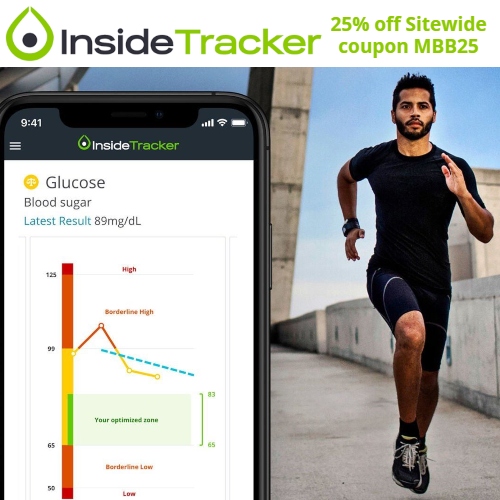 InsideTracker is a personalized health analytics company founded by leading scientists, physicians, nutritionists and exercise physiologists from MIT, Harvard, and Tufts University. They help you improve your overall health and longevity with a personalized wellness plan.
Every day, there's a new diet trend…"Eat that; take this; avoid those!" InsideTracker takes the guesswork out of dieting and nutrition by giving you evidence-based solutions that are simple, clear, and actionable. They cut through the noise by analyzing your blood, your DNA, your lifestyle and nutrition habits, and tell you how to reach your health goals so you can live, look, age, and perform better.
InsideTracker has plans for any health goal you may have, including everything from athletic performance & metabolism to longevity & overall well-being. You can be on your way to better health in just a few simple steps –
STEP 1 – Pick your plan
Choose the plan that best fits your needs and have your blood drawn at a lab, at home, or upload your existing blood and DNA test data.
STEP 2 – Tell them about yourself
How do you live your life? From sleep habits to food preferences, your answers help to power ultra-personalized recommendations.
STEP 3 – Spring into action
They'll help you set up a goal-oriented action plan with nutrition, fitness, and lifestyle recommendations to change your body for the better.
STEP 4 – Track your progress
As your body improves, your blood biomarkers change, too. Retest every 3 months to see what's working and what's not.
Get 25% off Sitewide at InsideTracker using coupon MBB25.
How InsideTracker works –
The InsideTracker platform analyzes and tracks key biochemical and physiological markers as they change over time. They use sophisticated algorithms and large scientific databases to determine optimal zones for each user's markers. Their expert system then provides science-driven lifestyle and nutrition interventions that empower people to optimize their markers. When optimized, these marker levels have been scientifically proven to increase vitality, improve performance, and extend life.
3