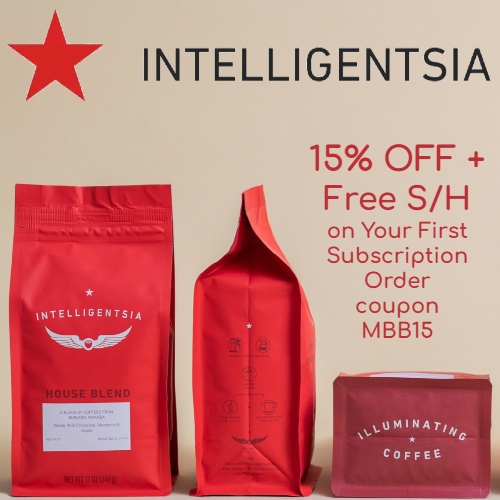 Intelligentsia was created when founders Doug Zell & Emily Mange moved to Chicago from San Francisco and found that great tasting, freshly roasted coffee in their new city was surprisingly rare. Instead of settling for bad coffee, they decided to make their own!
In 1995, their dream to open a café and roaster in the city's emerging Lakeview neighborhood came true. Since then, their passion and the extraordinary quality of their coffee has grown their business from a local coffee shop to a global distributer. In fact, many fine restaurants, hotels, and cafés around the globe proudly call Intelligentsia their house coffee.
Their direct-trade approach allows them to work directly with farmers and source some of the best coffee beans from around the world. The beans are expertly blended and freshly roasted upon order to ensure you get the freshest brew possible.
They offer a variety single-origin coffees, blends, and espressos in many vibrant roasts & distinct flavor profiles to suit any taste. Like to try new flavors? Intelligentsia also has a variety of rotating seasonal blends that allow you to try unique roasts you won't find anywhere else.
Get 15% off your first subscription order at Intelligentsia using coupon MBB15. Subscriptions ship Free!
2