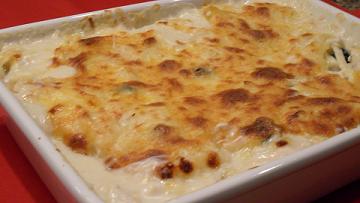 Because there's really only so much Turkey Soup one can consume… This dish is so good, I buy a turkey breast every couple months just to make it. It's super kid-friendly, if you omit the olives. And it's also great with chicken instead of turkey!
Ingredients
7 oz of Fettuccini or Linguini, cooked according to package instructions
2 cups of low-sodium or no-sodium chicken broth
2 cups of milk
1/4 cup unsalted butter
1/2 tsp salt
1/4 tsp black pepper
1 can of medium black pitted olives
2 cups of cooked, chopped turkey
1 cup sharp cheddar cheese, shredded
Directions
Preheat oven to 350°.
To make the sauce, melt butter in large saucepan over medium heat, whisk in flour and cook for about a minute. Whisk in chicken broth, milk, salt, and pepper. Heat to boiling, over medium heat, stirring constantly for a few minutes. Add the cooked pasta, turkey, and black olives. Spread the mixture into a lightly greased casserole dish. Sprinkle shredded cheddar cheese on top. Bake uncovered for 25-30 minutes or until hot and bubbly.
Sign up for my email newsletter to get recipes like this delivered to your inbox!
3