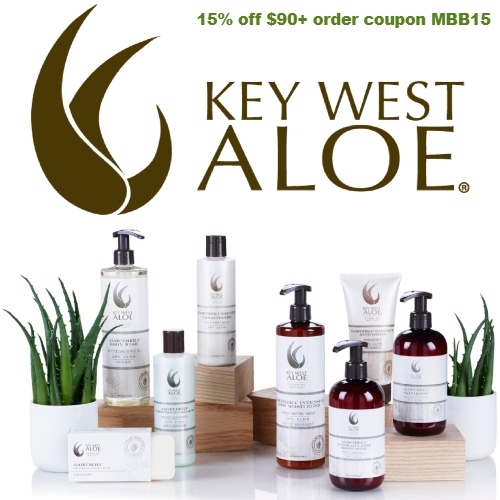 Founded in 1971, Key West Aloe has been creating a wide range of luxurious skin & hair care blends for over 50 years using nature's best ingredient as their primary ingredient. Aloe is naturally age-defying, nourishing, and moisturizing. It also acts as a cosmetically active carrier to enhance the performance of other cosmetic ingredients.
Key West Aloe products harness the power of aloe and other scientifically proven ingredients to produce personal care items you will love using!
Their line of skincare, sun care, bath & shower products, body care, haircare, fragrances, and pet shampoo is vegan, cruelty-free, gluten-free, and paraben-free.
Get 15% off your order of $90 or more at Key West Aloe using coupon MBB15. All products are backed by a 30-day money back guarantee.
1