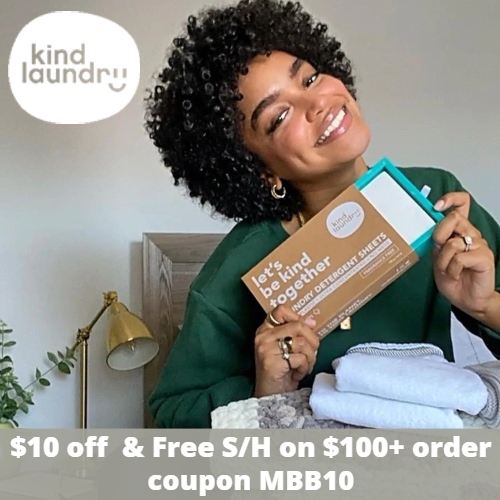 Kind Laundry offers zero-waste laundry detergent sheets that are completely non-toxic and plastic-free, eliminating the harmful ingredients and single-use plastics that come with most traditional detergents.
Their laundry sheets provide powerful cleaning without harsh chemicals. They are hypoallergenic, made from plant-derived ingredients, and 100% non-toxic, making them safe for everyone – even people with skin sensitivities and newborn babies.
The convenient pre-measured sheet design saves time, space, and frustration. Simply toss them in the washer with your clothes and press start. No measuring, no spills, no wasted product, and since they come in a compact 100% biodegradable box, there's no big plastic detergent bottles that take up too much space in your laundry room and end up in landfills. They are available in an invigorating Ocean Breeze scent or fragrance free.
Kind Laundry also offers wool dryer balls to soften your clothes naturally, a vegan stain remover bar that's tough on stains but gentle on your clothes, and premium mesh laundry bags to protect delicate items.
Get $10 off & Free Shipping on your order of $100 or more at Kind Laundry using coupon MBB10. Coupon is not valid on subscription orders.
For the best deals, check out their already discounted bundles.
Fun Fact – Kind Laundry was the 2021 winner of the Better Homes & Gardens Best Eco-Friendly Laundry Detergent Award!
2