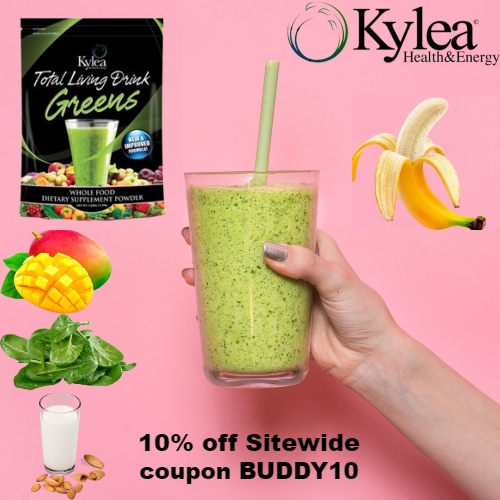 Eating nutrient-dense food supports the body and in turn allows the body to support you by providing energy and fighting sickness and disease. But eating the right foods can be challenging. It's rare to find foods in the market that have not been altered with harmful chemicals that can make us sick or depleted of nutrients. That's where Kylea comes in! Kylea Health & Energy's Total Living Drinks are among the most potent superfood drink powders on the market.
Kylea Health & Energy has spent years researching and developing products that enable people to get perfect nutrition so they can live a vibrant life full of energy and good health, conveniently and inexpensively. Their superfood drinks and supplements provide the body with enzymes, antioxidants, herbs, probiotics, herbs, vitamins and minerals.
They offer two delicious Total Living Drinks – Green & Berry. Each is a nine-products-in-one whole-food superfood formula with almost 9 grams of protein and the equivalent of 7 servings of fruits, berries, and/or vegetables. They also offer a line of supplements including, Max Immunity, Ultimate Keto, Collagen Peptides, and Colon & Inrtestinal Cleanse.
Get at 10% off Sitewide at Kylea Health & Energy using coupon BUDDY10. All products come with a 30-day return policy. Shipping is $5.99 on allorders. Coupon is not valid on subscription orders.
4