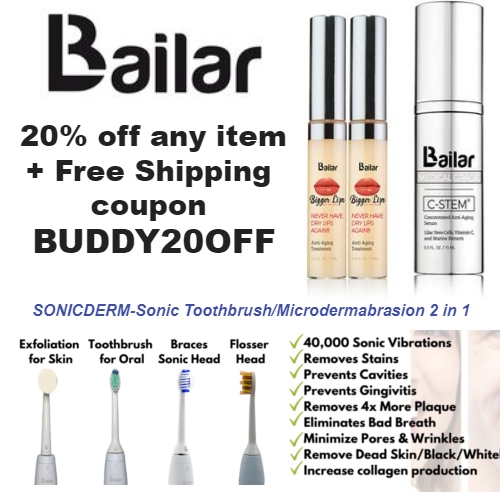 LBailar offers health and beauty products that are based in science with a focus on wellness, effectiveness, and transparency.
Their product line includes anti-aging & replenishing facial serums, anti-aging lip plumper, collagen supplements, plumping devices for your face, eyes & lips, sonic toothbrushes, a 2-in-1 sonic toothbrush & microdermabrasion machine, and more.
The SONICDERM-Sonic Toothbrush/Microdermabrasion Machine 2 in 1 has detachable heads so you can improve your oral health and skin appearance with one device. The toothbrush heads improve gum health in just two weeks & remove 7x more plaque than manual toothbrushes. Their patented Sonic-Derm attachable head exfoliates and rejuvenates skin. It can reduce fine lines and wrinkles, remove blackheads, minimize pores, and promote skin cells to increase repair creating a younger, healthier glow.
Get 20% off any item at LBailar using coupon BUDDY20OFF. All orders ship Free – No minimum required. All products come with a 90-day money back guarantee, LBailar will even pay for the return shipping.
2