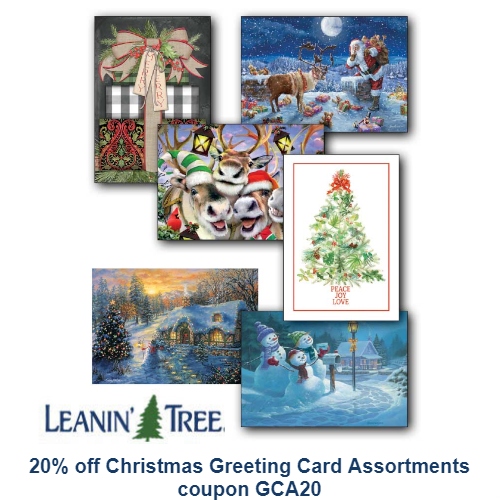 Save time and money with Leanin' Tree's delightful assorted Christmas cards, including Christmas Card Value-Pack Assortments, Boxed Holiday Cards, and sparkling Glitter Card Sets. From whimsical to traditional, you'll find a wide variety of festive holiday designs, card styles and sizes to choose from. Their high quality cards are beautifully crafted and feature original artwork by outstanding independent artists from across the country and around the world.
Their Christmas Card Value-Pack Assortments provide a tremendous savings and a ready supply of Christmas cards to keep on hand for your home or office. They offer a colorful variety of assorted Christmas cards featuring favorite holiday themes at less than 85¢ per card before coupon!
Get 20% off Christmas Greeting Card Assortments at Leanin' Tree using coupon GCA20. All orders come with a 100% money-back guarantee. Standard shipping is Free on orders over $50 in the continental U.S.
4