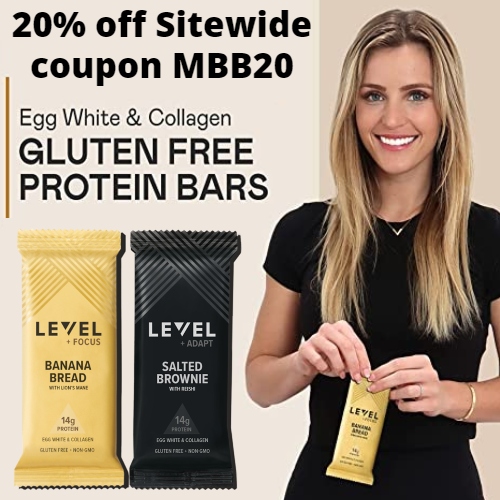 Level Foods offers multi-functional, collagen packed protein bars that support beauty & wellness from the inside out. With 14g of complete protein, Level Bars are formulated to optimize repair through their protein combination of egg white and collagen. They keep you full longer and boost energy, plus each bar contains a unique adaptogen to help you combat stress and support overall mind & body balance.
Level Bars are made with science-backed ingredients, are gluten, dairy, soy & GMO free, and they contain no additives, artificial sugars, or sugar alcohols – So you can satisfy your sweet tooth without fake ingredients! With two great, adaptogen-infused flavors – Banana Bread & Salted Brownie – their bars are the perfect on-the-go beauty routine that never slows you down. You can store them in your desk, purse, or gym bag so you can have a healthy snack anytime, anywhere.
Did you know that collagen can't be absorbed through your skin? After the age of 20, collagen production begins to decline by 1% every year, leading to aging skin, hair, & nails. With Level Bars you can feed your skin the nutrients it needs to help fight the aging process. Adding collagen to your daily routine can:
• Improve skin elasticity
• Increase skin hydration
• Support the growth of strong hair & nails
• Promote youthful skin
• Reduce wrinkles around the eyes
• Promote healthy digestion & gut health
• Support joint health & prevent bone loss
• Support building & maintaining muscle
Get 20% off Sitewide at Level Foods using coupon MBB20. Shipping is $4.50 or Free on orders of $55 or more. Level Bars come with a 30-day money back guarantee (first order only). Coupon is not valid on subscription orders.
For extra savings join their rewards program. You'll earn points every time you shop, which can be redeemed for discounts on future purchases.
3