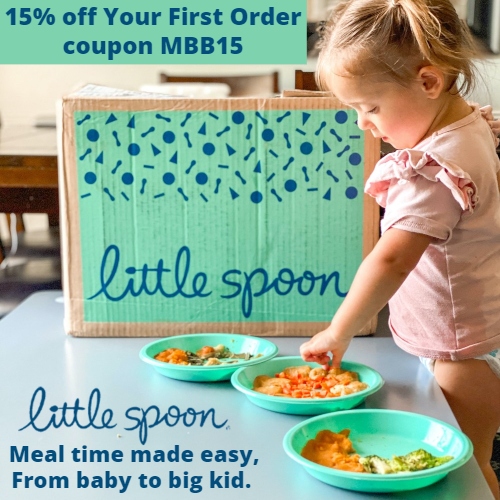 Little Spoon is on a mission to make parents' lives easier while keeping little ones healthy by delivering freshly prepared baby food, toddler & big kid's meals, smoothies, and clean vitamins & natural remedies straight to your door.
Their healthy meals are nutrient-dense, fresh, organic, and full of flavor. They contain the ingredients your kiddos need to build a lifetime of healthy habits and they arrive ready to heat-and-eat for an easy mealtime – So you can skip the grocery store and have peace of mind about what your child is eating. Their product line includes:
Babyblends – Freshly made, organic baby food with recipes for every stage – From starting solids to complex purees and textured transition meals. They are made with 100% organic and non-GMO ingredients that are sourced from trusted farms and partners. They come in a wide variety of flavors to expose your baby's palate to over 100 ingredients.
Plates – Ready-to-eat, healthy, clean meals & finger foods for toddlers and big kids that are picky-eater approved. Their crafty recipes deliver hidden veggies and superfoods in every bite. They are made with no preservatives, low sodium, and absolutely nothing artificial.
Smoothies – 100% organic smoothies packed full of veggies and superfoods for babies, toddlers & big kids. These smoothies come in convenient pouches that make them a great snack at home and on-the-go. They are available in many delicious flavors and are made with ingredients you can feel good about.
Boosters – Clean, all-natural vitamins & natural remedies that help with everyday issues such as constipation & runny noses and also help support brain development. They are designed by experts and made with carefully sourced vitamins, minerals, and non-GMO whole ingredients.
Get 15% off your first order at Little Spoon using coupon MBB15.
Little Spoon subscriptions are just as easy as their meals! Simply choose how many meals you'd like per week and they'll ship them to your doorstep every two weeks.
You can easily change & customize your menu through your online account and there are no commitments. You can pause, cancel or skip anytime. Plus, if you ever have any questions about your child's nutrition needs, members get one-on-one access to Little Spoon's child nutrition certified care team to help with your concerns.
1