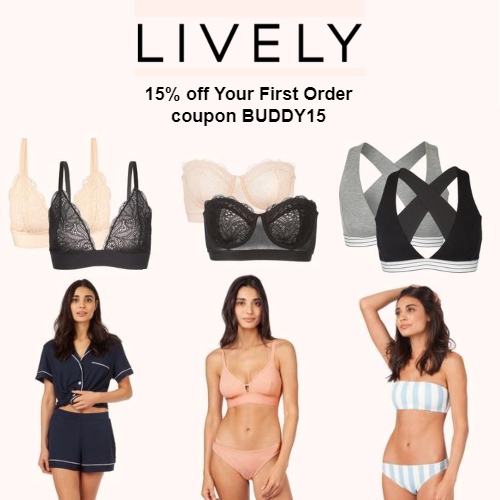 Lively is inspired by what they believe sexy women are today; smart, healthy, active and outgoing. They are delivering bras and undies that blur the aesthetic lines of lingerie, active wear, and swimwear, taking the best elements of high-style and comfort from each category. They are establishing an entirely new category and point of view of lingerie, a movement that they call Leisurée.
Lively is a brand that's made by women, for women – which means they know bras and swimwear, and they know how to make them great. All their products are made with the best components and materials in the industry. They offer multiple styles of undies, lounge wear, active wear & swimwear, body suits, their new Jasmine fragrance line, and of course their amazing bras.
Lively bras outshine the rest! Their bras blend high-style and ultimate comfort for your all-day, everyday hustle. Choose from bralettes, t-shirt bras, push-up bras, strapless bras, and no-wire bras to find your new go-to pieces. Check out this article to see why you'll never go back to your old bras again!
Too many great products to choose from? No worries! Lively offers bundle deals that allow you to save on every style on your wish list. The more you bundle, the more you save and these discounts can be stacked with the coupon below!
Get 15% off Your First Order at Lively using coupon BUDDY15. Shipping is Free on U.S. orders over $40.
3