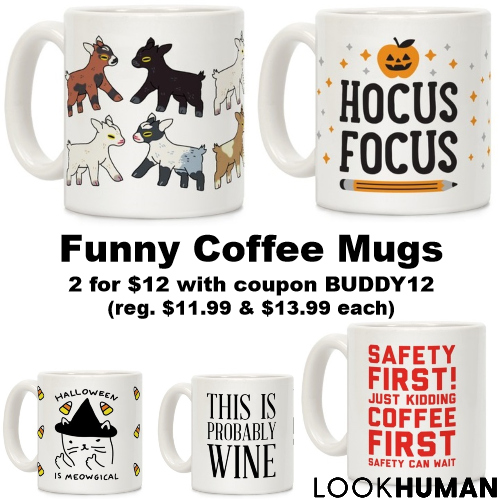 LookHUMAN believes that every printed object can be a mechanism to declare identity and belonging. They create compelling clothing, accessories, and home decor for trendsetters and pop culture nerds with a bold sense of humor.
They have a great selection of coffee mugs that are sure to put a smile on anyone's face! Regularly $11.99 for 11-ounces sizes and $13.99 for 15-ounce sizes, you can get them 2 for $12 using coupon BUDDY12. There is no limit on the number of $6 mugs you can order using this coupon. Just be sure to have an even number of mugs in your cart. Mix/match is ok! Shipping is $5.99 or Free on orders over $50.
There are over 13,000 mugs to choose from! Use the "Popular Topics" menu in the left column on their site to view mugs in categories you enjoy, like Halloween, Christmas, puns, cats, nerds, etc.
3