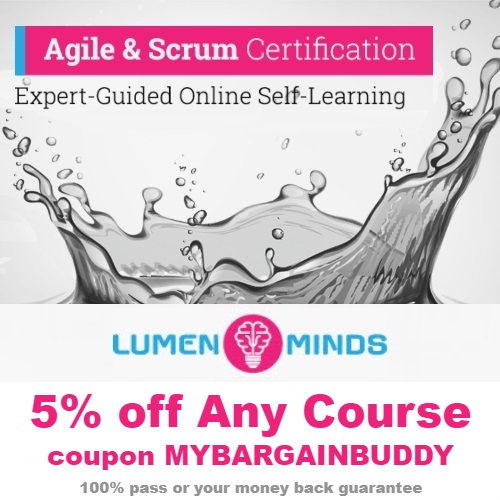 Scrum is a framework for implementing agile processes in software development. With agile quickly becoming the standard at most companies, scrum masters are in great demand. According to glassdoor, the average base pay for a scrum master is $93,285/year.
There are many options when it comes to getting your scrum certification. It's easy to get overwhelmed. Fortunately, Lumen Minds has made it simple, efficient and cost-effective. They offer expert-guided online self-learning with a 100% pass guarantee or your money back.
Get 5% off any course at Lumen Minds using coupon MYBARGAINBUDDY.
Agile & Scrum Courses offered at Lumen Minds:
SCRUMstudy Agile Master Certified (SAMC™)
Scrum Fundamentals Certified (SFC™)
Scrum Developer Certified (SDC™)
Scrum Master Certified (SMC™)
Scrum Product Owner Certified (SPOC™)
The charts below outline the costs and time commitments for Scrum Master and Scrum Product Owner certifications currently being offered by the leading scrum training organizations. Lumen Minds is the clear choice for anyone wanting to get their certification at the lowest price and/or avoid having to go into a classroom.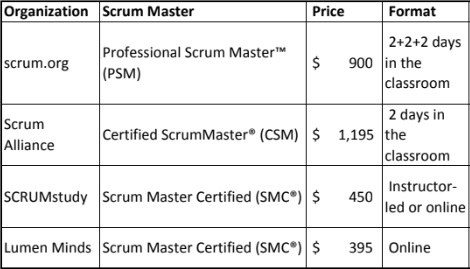 Don't forget to use coupon MYBARGAINBUDDY to save 5% on any course at Lumen Minds.
3