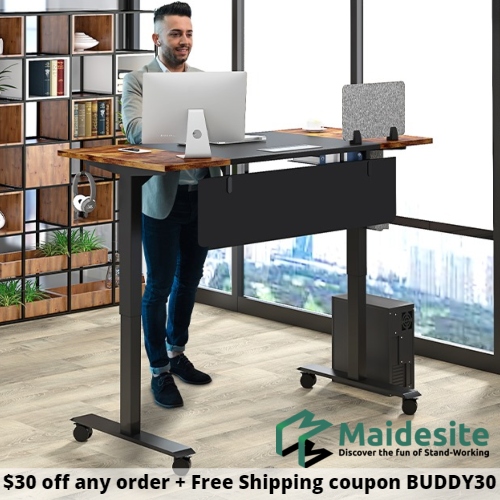 Studies have shown that sitting and working for long periods of time can have many negative effects on your physical & mental health. Maidesite ergonomic standing desks give you the ability to get out of your chair and stand while you work!
Standing desks provide tons of benefits, including:
– Standing lowers your risk of weight gain and obesity
– Standing desks reduce back & neck pain
– Standing desks help improve mood and energy levels
– They can boost productivity
– Studies have shown that using a standing desk can lower blood sugar levels and your risk of heart disease
Maidesite standing desks are built for comfort & functionality with modern designs that fit any taste. Their desks are electric & adjustable, so you can transition from sitting to standing in seconds. They come in many different sizes, styles, and colors. They also offer desk accessories to customize your desk to fit your needs, style, and office space perfectly.
Not sure if you'll enjoy a standing desk? No worries! All Maidesite standing desks come with a 30-day risk free trial. If for any reason you decide it's not for you, just send it back for a full refund. Maidesite will even pay for the return shipping!
Get $30 off any order at Maidesite using coupon BUDDY30. All desks ship Free and come with a 10-year warranty. Coupon is not valid on sale items.
2