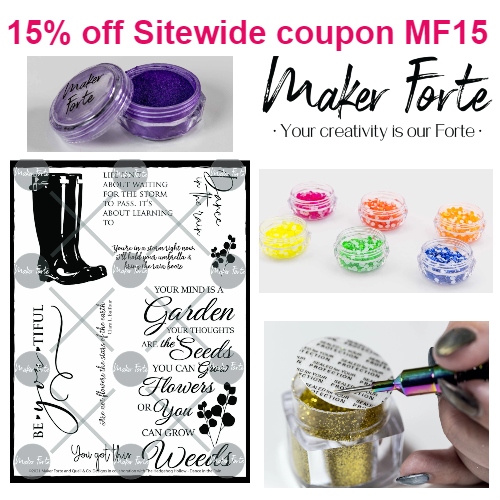 Maker Forte is a maker supplies company that's breaking the mold on what is considered crafty! They believe that every day should be a creative party, so all of their products are uniquely designed to innovate and fuel your imagination.
They offer a wide range of products by signature designers that make crafting easy and beautiful, including stamps, stencils, crafting jewels, premium quality glitter in tons of great colors, paper & cardstock, envelopes, printed paper, crafting tools, and their popular Kaleidoscope powders.
Maker Forte Kaleidoscope powders are versatile and lots of fun to work! They come in Neon, Glow in the Dark, color shift, interference and more. You can use them with their Clear Color Hive Ink Pad. Simply add a little water to create a thick, luscious watercolor paint, or put some in a spray bottle to make a spray mist, or add them to a water pen for use with a watercolor technique. The possibilities are endless! For extra inspiration, check out their Creative Blog.
Get 15% off Sitewide at Maker Forte using coupon MF15. Shipping is $4.99 or Free on orders of $75 or more.
4