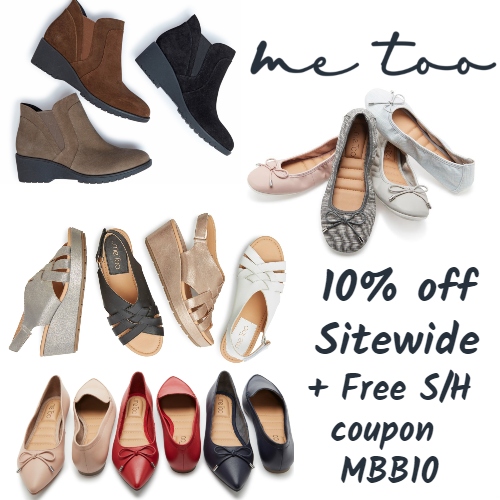 Me Too Shoes is a specialty women's footwear company that wants to help you feel confident while keeping you comfortable. Me Too started in 1996 – long before people were openly advocating for women's rights in the workplace. Now, they are proud to share a link with a movement that boldly champions women. Being aligned with this cause has given their family-owned business renewed focus and inspires them to create shoes that help women put their best foot forward.
Me Too's line began with ballet flats and has turned into a destination for the latest trends for women who are empowered to live free through fashion. They offer a wide range of high quality footwear including flats, loafers, wedges, sandals, and more that invoke femininity and freedom for today's modern woman. Their shoes are 100% handmade with the highest quality products and include their signature footbed that will keep you comfortable all day long.
Get 10% off Sitewide + Free Shipping at Me Too Shoes using coupon MBB10. Coupon will work on sale items, which are already up to 40% off!
3