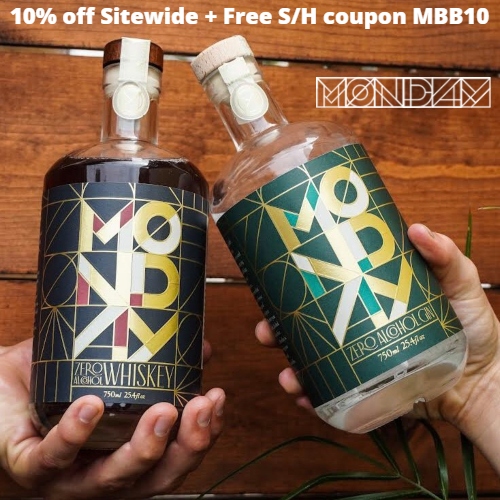 If you love a good cocktail but hate the hangover and unhealthy side effects of alcohol, check out Monday non-alcoholic spirits. Made using natural ingredients and handcrafted in small batches at their Southern California distillery, Monday Gin & Monday Whiskey contain zero alcohol, zero sugar, zero carbs, and zero calories – so you can enjoy a tasty cocktail today, without worrying about how you'll feel tomorrow!
Their flagship spirit, Monday Gin, is perfect for a classic cocktail like a Gin & Tonic, Gimlet, or a Gin Fizz, or for a simple drink, pair it with flavored tonic, soda water, or fresh citrus fruit.
Just because it's healthier and alcohol free doesn't mean you lose out on the flavor profile: The nose is bold and juniper forward in classic London Dry fashion. On the palate, the strong juniper throughout is accompanied by notes of bitter lemon and grapefruit with a hint of coriander. It finishes long with complexity and heat that develops over time.
Monday Whiskey is inspired by classic American cocktails – the Old Fashioned, Manhattan, and Whiskey Sour. It's handcrafted by their award-winning Bourbon maker and has a delicious flavor profile: On the nose, butterscotch, raisin, and toasted brown sugar. The palate presents roasted coffee, rich caramel, and warm molasses. The finish is long with spicy heat down the middle and a hint of orange.
Get 10% off Sitewide at Monday using coupon MBB10. All orders ship Free – No minimum purchase required! Coupon is not valid on subscription orders but it will stack with their automatic multi-bottle discount.
If you'd like to try both the gin and the whiskey, they are available in a discounted variety pack. Cocktail Kits are also discounted and include gin or whiskey along with premium mixers and barware.
Monday's non-alcoholic spirits are vegan, gluten free, and keto friendly.
7