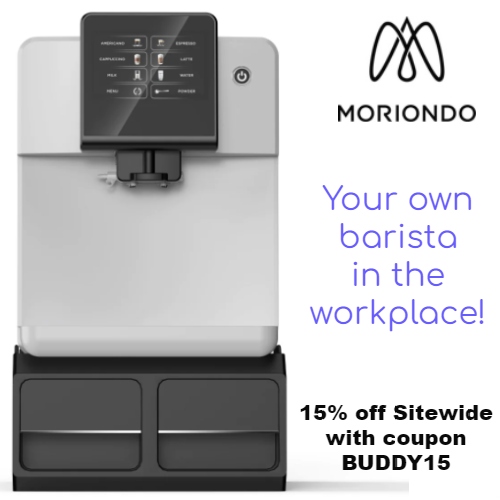 Moriondo is where coffee innovation meets tradition. Originating in Italy, the birthplace of espresso culture, Moriondo is dedicated to elevating the office coffee experience with their workplace coffee service membership.
The Moriondo espresso machine features one touch technology that allows you to create all espresso based drinks – Americanos, cappuccinos, lattes, and of course, espressos. You can also use the hot water function to make yourself a cup of tea. A built-in grinder takes the hassle out of using fresh beans and keeps plastic brew cups out of landfills.
At the heart of Moriondo's philosophy lies an unwavering dedication to quality. Each batch of coffee beans undergoes meticulous scrutiny to ensure consistency and excellence in every sip. From sourcing beans from reputable regions to the artful roasting process, the emphasis on quality permeates the entire journey. Their diverse range of flavors caters to the distinct preferences of coffee enthusiasts.
Beyond the pursuit of flavor, Moriondo places great emphasis on sustainability and ethical practices. The company is committed to supporting sustainable farming methods and ethical sourcing, ensuring that every cup of coffee not only delights the senses but also contributes positively to the environment and communities.
Get 15% off Sitewide at Moriondo using coupon BUDDY15. Subsequent subscription coffee orders are shipped Free to the 48 contiguous United States.
Your first shipment will include an espresso machine (in your choice of black or white) and a variety of coffee blends. The coffee subscription renews each month. Memberships are month-to-month without any contracts. You can downgrade or upgrade your coffee membership with no extra fees. You can cancel or pause your coffee subscription anytime via email, 10 days before your renewal date.
1