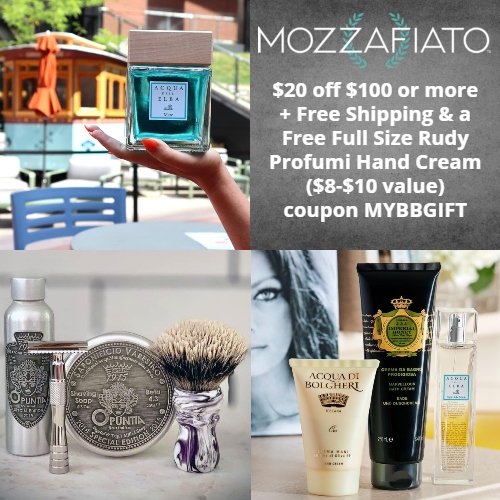 Mozzafiato Coupon
Today: $20 off $100 or more + Free Shipping & a Free Full Size Rudy Profumi Hand Cream
Coupon: MYBBGIFT
Expires: 11/15/21
SHOP NOW
If you're looking for some of the best skin care in the world, perfected through generations, sourced from natural abundance, and infused with the latest clinical innovations, go to Italy! Or buy them from Denver, CO based Mozzafiato – they've imported it just for you!
Mozzafiato offers accessibly-priced luxury Italian beauty products (like Borghese, Ortigia Sicilia and Carthusia) and fragrances for men & women. They have traveled all the regions of Italy to discover and bring you the very best native Italian beauty brands from this incredible country.
The Mozzafiato collection of brands share a commitment to beauty nourished by nature, time, and a deep connection to the land, people, and style of del Bel Paese. Their products embody the true spirit of Italian beauty and style – effortless grace, harmony, and originality that are each reflected in the quality of the products, gorgeous packaging, bold use of color, and sophisticated, masterful design.
Every product in the Mozzafiato collection meets the highest expectations of quality, authenticity and performance. Their team of beauty experts seek out brands built on the highest principles and foundations of exquisite natural ingredients with specialized, unique formulations. The Mozzafiato team personally uses and recommends all of the products they carry, including skincare, hair & beard care, fragrances, bath and body products, home fragrances, and more.
Be sure to check out their men's line. Italians have perfected the art, performance, and style of gentlemen's grooming over centuries of dedication. Now you can experience it for yourself with Mozzafiato's complete line of impeccable products from shaving to skin care to cologne.
For a very limited time, you can get $20 off your order of $100 or more, Free Shipping, and a Free full size Rudy Profumi Hand Cream ($8-$10 value) at Mozzafiato using coupon MYBBGIFT. The Free gift will not show in your cart, but it will be added to your order when it ships.
Mozzafiato rarely offers discounts! Take advantage of this special offer just for MyBargainBuddy readers before it's gone! Lots of great gifts here – never too early to start chipping away at your holiday shopping list!
3