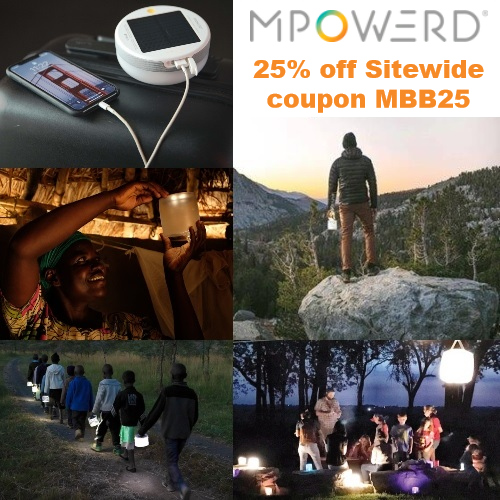 MPOWERD offers sustainable solar powered lights with a purpose. Their lightweight, portable, and reliable solar lights make life brighter, easier, and more efficient for you, while helping those in need, and also being good for the environment.
Over 3 billion people live without clean, reliable, affordable energy. Everyday tasks are made more difficult and more dangerous without proper lighting. This is where MPOWERD comes in! They work with over 700 NGOs and non-profits to provide clean energy to those who need it most. Every light sold helps them distribute products that give people the power of self-reliance & safety through lighting.
MPOWERD solar lights are great for home use, camping, outdoor activities, and for emergency preparedness. They are long-lasting, packed full of power, and thoughtfully designed for everyday use.
Their line of innovative solar lighting includes lanterns with built-in mobile chargers so you never run out of juice no matter how far off the grid you are, inflatable emergency lanterns equipped with red flashing S.O.S. signals, utility lights that are great as an overhead garage light or an emergency light, colored lanterns & string lights for adding a fun, decorative touch to patios & camping spots, smart lanterns with built-in blue tooth speakers, candle lanterns that add a calming ambiance to any space, and more.
Get 25% off Sitewide at MPOWERD using coupon MBB25. All products are backed with a 30-day return policy and a 1-year warranty.
Fun Fact: MPOWERD's Luci Lights were named the #1 Gift for Adventurers in 2021 by USA TODAY!
6