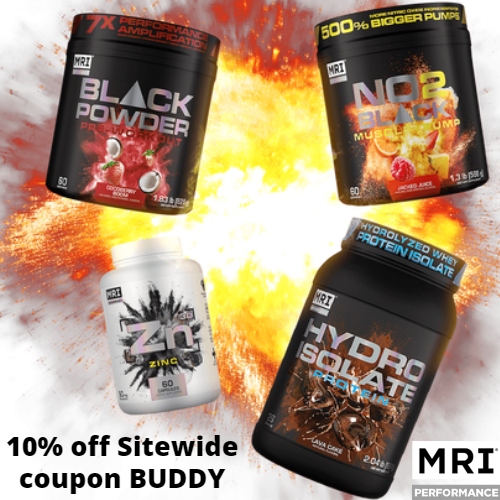 MRI Performance offers U.S.A. made premium muscle building supplements that are formulated with high quality ingredients and clinically effective doses to help you power through your workouts with explosive power.
Their product line includes:
No2 Black Muscle + Pump – This powerful booster increases blood flow and extends your pump so you can power through workouts with increased energy and stamina. It is stimulant free, so you don't have to worry about jitters or crashes.
Black Powder Pre-Workout – Scientifically formulated with premium ingredients, this pre-work gives you extreme energy, strength, focus and endurance while helping to build muscle and boost blood flow.
Hydro Isolate Protein – After a tough workout, this advanced, low calorie, pure protein satisfies your hunger and helps you recover and build lean muscle. It comes in great flavors like Lava Cake & Salted Caramel and is ultra-fast digesting for maximum absorption and effectiveness.
Immuni-V Effervescent Powder – Keeping your immune system up is extremely important. A serving of Immuni-V contains more Vitamin C than over 20 oranges, as well as other sickness fighting vitamins and electrolytes to keep you healthy and enhance your performance.
Zinc 50 Mg Vegetarian Capsules – Zinc supports a healthy immune system, improves recovery, increases cellular energy production, boosts protein synthesis, provides natural energy, and reduces the effects of aging.
Get 10% off Sitewide at MRI Performance using coupon BUDDY. Coupon is not valid on stacks.
4